What Makes Toben Different
Web-based management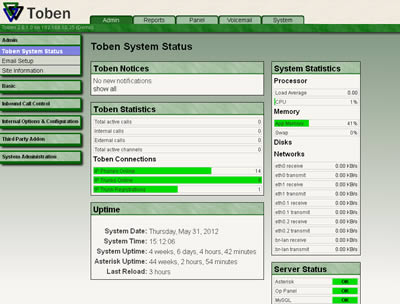 Toben provides an easy to use web-based management system for controlling all aspects of your PBX. This means that any changes you need to make to your setup, and configurations that you need to update, or any features or call flow options you want to change can all be done directly, by you, through your standard web browser. There are no additional pieces of software to install, and no operating system specific requirements! You can also configure the system for multiple users with tiered functionality giving you the ability to have different people be responsible for maintaining or updating different aspects of the system.
In addition to the management interface, used for programming and configuring the system, Toben also delivers a number of incredible web-based features for users.
Call Detail Reports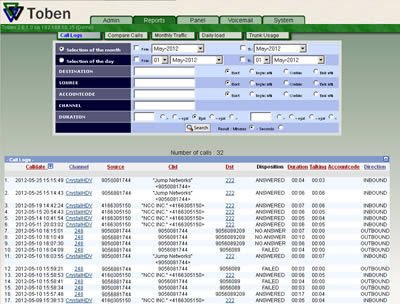 Toben provides a complete built-in CDR (call logging and tracing) system that can be managed and accessed through the Call Detail Logging interface. That means no more external call monitors or third party applications! In addition to viewing call history you can choose to search the records for specific events, specific times and dates, or specific to/from numbers. Graphs and usage statistics will give you an overview of how often things like long distance calls are made and how much time certain users spend on the phone. And with Toben's special channel monitoring system you can determine exactly how many concurrent calls you're using on a daily basis to help ensure you're not over-subscribing your trunks or line services. Reports can be exported in PDF or Excel format for easy archiving or forwarding to others. All of this call information is stored in a standard SQL database to allow for easy 3rd party or custom queries and integration.
User Portal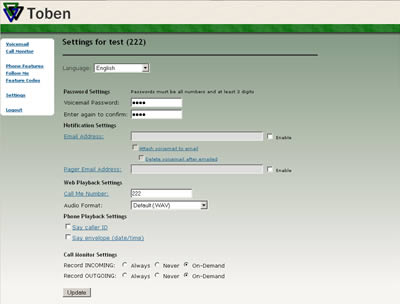 The User Portal allows anyone with an extension on the system to login and manage their voicemail and calling features. Users can view, playback and delete voicemail messages directly from the interface, as well as setup advanced options such as voicemail to email, call forwarding, and remote call notification. In addition users can also view their own call history (both incoming and outgoing calls) and adjust their call monitoring options.
Mobile Portal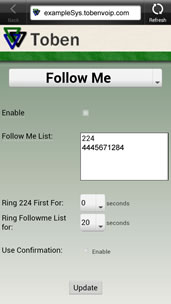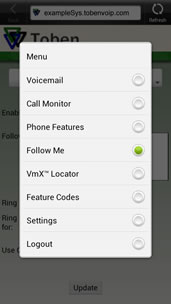 The Mobile User's Portal allows users with smartphones to access the same features and functionality of the standard User Portal through a more compact touch-oriented interface. This allows for the ability to toggle Find-me Follow-me, setup remote notifications, and even get full visual voicemail and remote callback options while on the road or out of the office. Best of all there's no app or device-specific software to install, so you can get up and running right away from wherever you are!
Multiple Agent Queues and Detailed Reporting/Statistics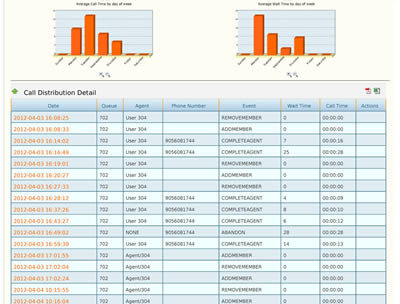 Toben offers the ability to setup an unlimited number of Call Queues, each capable of supporting numerous agents both locally and at offsite locations. With the optional Queue Statistics/Reporting package you can also generate detailed reports and overviews of your queue usage, agent call times and overall effectiveness of your call center.